If you're looking for a water park to slide, race and splash around, look no further than Island H20 - Orlando's newest water park and an unmissable unique immersive social media themed adventure!
Orlando's newest water park
Immerse yourself at Orlando's newest Water Park!
If you're looking for a splash-tastic adventure themed around a unique immersive social media experience - it's all at Island H20!
What's at Island H20?!
Just some of Island H20's 20+ attractions include: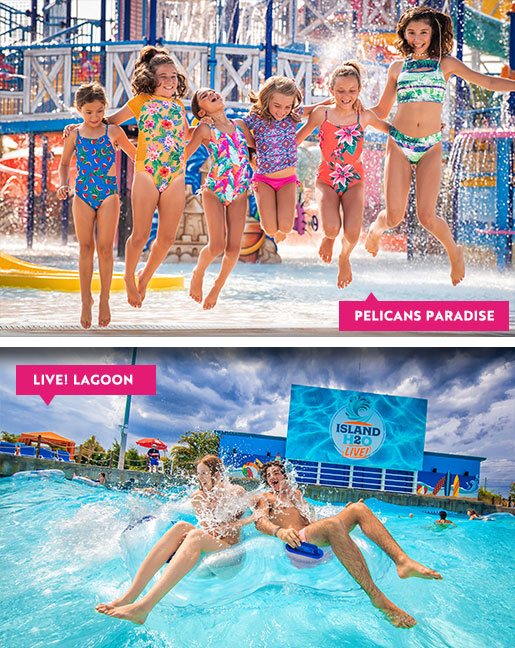 Profile Plunge
Feel weightlessness in this zero-gravity style water ride...whilst jamming out to your favourite playlist with it's modern on-ride technology!
Pelican Paradise
Splish and splash in the land for little tikes! Pelican's Paradise is complete with an array of adventures to keep the kids entertained all day long
Hashtag Heights
Get that zero-gravity feeling and share it with your friends! Relive the rush with on ride video recording whilst taking on this 494ft slide of heart pounding fun!
Chat Creek
Not here for the thrills? No problem. Take a rubber ring and soak up the relaxation on this lazy river
Availability
2022 season ends November 27th 2022
Park reopens March 2023 - July 2023 daily
Park is open August 2023 Thurs - Sun
Park is open September 2023 Fri - Sun
All of these dates are subject to change so please check in advance before your visit
Opening Times
Standard opening hours are 10:30am - 5pm but extended hours are within operation on certain days, please check before your visit
Getting There
Address
3230 Inspiration Drive, Kissimmee, FL 34747
Parking
Parking is available at $10 per vehicle.
Restrictions
Height
For safety reasons, height restrictions apply on some of the rides at Island H20 Water Park.
Children
Children under the age of 16 must be accompanied by an adult
Disabled Access
Wheelchairs are not available at Island H20 Water Park, users needing wheelchair transportation will need to bring their own.
Useful Information
We recommend downloading the Island H20 app free of charge before your visit, this will enable you to fully immerse yourself in the interactiveness of the park and allows visibility on attraction wait times, assists on planning your visit and you can also earn points!
Pools are heated in the Fall!
Towels are not provided so please bring your own, alternatively they are available to purchase in park
Lockers are available for rental to keep your possesions
Life vests are available (based on availability) for use free of charge for anyone wanting/needing to use one
Please use swim diapers for children that are not yet toilet trained, these are also available for purchase in park
What am I NOT allowed to bring in the park?
Animals are not permitted except service animals if required by law
Glass or other items that may break and become a hazard
Coolers
Outside food or beverages
Selfie sticks
Shade structures
All personal loungers or seating
Convenience mobility items e.g Rollerskates, bicycles etc
Pool toys
Flotation devices e.g swim fins, snorkels, masks
Drinks other than water