Halloween Horror Nights Tickets
It's never too soon to start panicking at the award-winning Halloween Horror Nights™ at Universal Orlando Resort™!
Voted Best Halloween Event for 10 years!
2019 EVENT
Takes place Sept 6th - Nov 2nd
Suitable for age 14 & over
Oh darn!

This ticket isn't available to book right now.

This may be because:
We have sold out
This product is seasonal and tickets for the new season are not yet available
But don't worry! There's loads more to do in Florida, so check out our:

An email has been sent to our team. We'll be in touch as soon as we can.
Sorry there has been an error!
THE WORLD'S PREMIER HALLOWEEN EVENT....
Universal's Halloween Horror Nights brings together stories and visions from the world's most notorious creators of horror.
As the sun sets on days filled with thrills in all of Universal's theme parks, the night awakens with a frightening chill - from cinematic greats and crazed current cult favorites to the park's original abominations.
Make your way through terrifying haunted houses. Face nightmarish creatures on streets twisted into sinister scare zones. Lose yourself in outrageous live shows. Then escape to some of Universal Studios' most exhilarating attractions where heart-pounding takes on a different meaning—until the horror calls you back.
Get ready to watch your worst nightmares become reality as Universal Studios Florida™ theme park transforms into the greatest exhibition of pure terror ever unleashed!
Jump right in the middle of horror history's most heart-pounding moments with The World's premier annual Halloween event - Halloween Horror Nights™. It won Amusement Today's "Best Halloween Event" Golden Ticket award a whopping 10 times!
As the streets come alive with hordes of mutants, monsters and maniacs, nowhere is safe and there's nowhere you can hide.....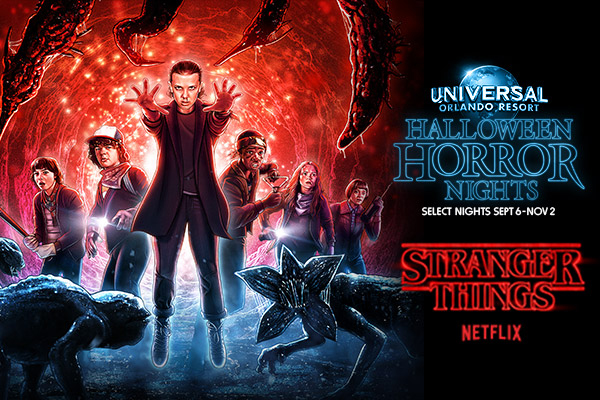 THE DEMOGORGON WAS JUST THE BEGINNING...
Prepare to go even further into the chilling world of the Upside Down as STRANGER THINGS returns to Halloween Horror Nights in an all-new haunted house. Experience the most terrifying moments of STRANGER THINGS 2 & 3 as you face snarling Demodogs and scream through iconic scenes from Hopper's cabin to the Starcourt Mall.
ALL THAT STANDS BETWEEN YOU AND THE END OF THE WORLD
A rift between worlds has opened, releasing apparitions of every shape and size. Step right into the original film where Slimer and other ghoulish spirits, specters and ectoplasm-dripping phantasms materialize where you least expect. Your screams are going to be big. Stay-Puft Marshmallow Man big.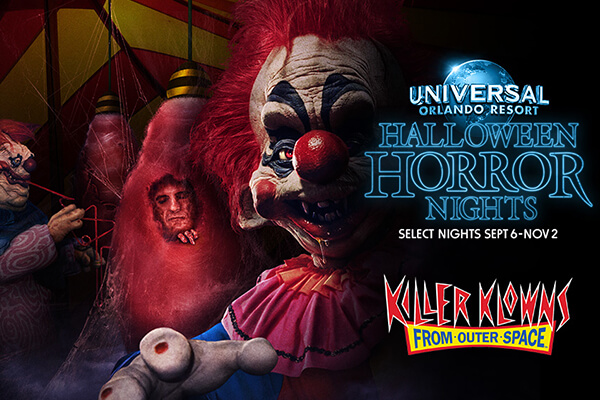 KILLER KLOWNS FROM OUTER SPACE
If ever there was a reason why people are afraid of klowns, this is it. The Killer Klowns from Outer Space have landed in an all-new haunted house. Don't let them encase you in one of their cotton candy cocoons or you could end up as a gooey snack. These Killer Klowns won't make you scream with laughter–just scream.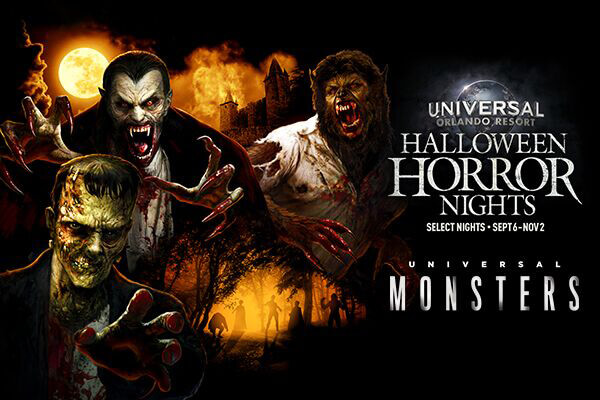 THEY'RE ON THE HUNT. YOU'RE ON THE RUN
Frankenstein. Dracula. The Wolfman. The world's most terrifying monsters have come together to tear you apart. Flee through a dark Bavarian forest as the savage Wolfmangrows ever closer. Try to escape from the manmade monster within Dr.Frankenstein's laboratory. Face the fanged terrors in Dracula's castle. And encounter other untold horrors. It's the more, the scarier.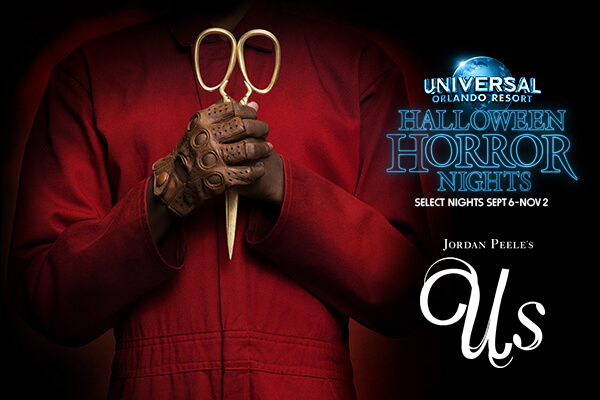 You Can't Run From Yourself.
Jordan Peele's new original nightmare comes to life as the Wilson family faces the ultimate opponent: themselves. Enter the funhouse on the Santa Cruz Pier where you'll experience the horror of little Adelaide Wilson when she comes face to face with her menacing mirror image. Freeze in terror and disbelief as the Wilson family—and you—are hunted at every turn by terrifying doubles of themselves known as the Tethered. If you're seeing double, you're in trouble.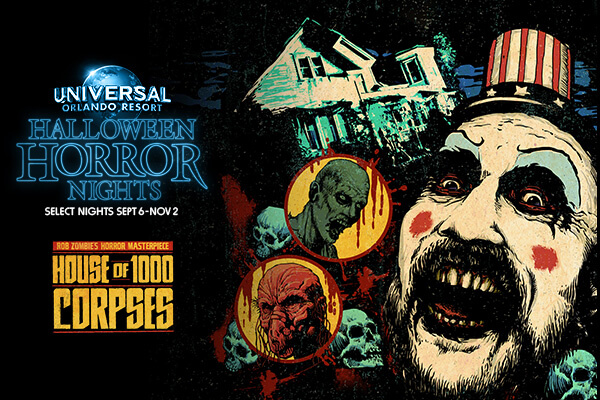 EVERY ROOM IS DECORATED IN BLOOD
From "Captain Spaulding's Museum of Monsters & Madmen" to the home of the psychotic Firefly family, Rob Zombie's epic horror masterpiece comes to life. Scream all you want, you won't find any mercy at the decrepit Firefly house. After all, what's one more corpse when there are a thousand others inside.
The most terrifying experience of your life!
Quake with terror as you explore haunted houses which could be straight out of a horror movie
Try not to scream as gruesome and grotesque figures lunge from the shadows of the scare zones
Squeal with fear – and laughter - at the outrageously chilling live shows.
Plus of course, you can experience some of Universal Studios Florida's most exciting rides and attractions!
TM & © 2019 Columbia Pictures Industries, Inc. All Rights Reserved.
TM & © 1988 Orion. © 2019 MGM
© 2002 House of 1,000 Corpses, LLC. Artwork © 2002 Rob Zombie
Frequently Asked Questions
How much are Halloween Horror Nights tickets?
For 2019, the price of a 2-night flex ticket is £75. This gives you access to any two event nights, from Sunday-Friday. The frequent plus pass is £119, and allows you to visit as often as you like. You can buy both ticket types from official partners at the top of the page.
Can you buy Halloween Horror Nights tickets at the gate?
Yes, the price of admission on the gate for 2019 is $119.99 + tax (approximately £95). This is only for one night. Online tickets are £75 for 2 nights, available at the top of the page.
Do you need a separate ticket for Halloween Horror Nights?
Is Halloween Horror Nights included in annual pass?
No. However, pass holders are eligible for ticket discounts when they buy directly through Universal Orlando Resort.
Event Dates & Times:
Halloween Horror Nights™ 2019 takes place on select nights from September 6th – November 2nd
The event begins at 6:30 pm (closing times vary)
Halloween Horror Nights Flex 2-Night Sunday-Friday Ticket event dates include:

Sept: 6, 8,12, 13, 15, 18, 19, 20, 22, 25, 26, 27, 29
Oct: 2, 3, 4, 6, 9, 10, 11, 13, 17, 18, 20, 21, 23, 24, 25, 27, 29, 30, 31
Nov: 1

Halloweeen Horror Nights Frequent Fear Plus Pass is valid for use on the following 2019 event dates:

September 6, 7, 8, 12, 13, 15, 18, 19, 20, 22, 25, 26, 27, 29
October 2, 3, 4, 6, 9, 10, 11, 13, 17, 18, 20, 21, 23, 24, 25, 27, 29, 30, 31
November 1, 2
Location:
Halloween Horror Nights™ takes place at Universal Studios Florida™ in Universal Orlando Resort™, 6000 Universal Boulevard, Orlando, FL 32819.
Important:

No costumes or masks allowed.
Separately ticketed event.
Event occurs rain or shine. No rain checks, returns or refunds.
Dates, times, attractions and entertainment are subject to availability and may change without notice. Free self-parking after 6pm is not valid for Halloween Horror Nights™.
Other restrictions may apply.
The above Admission Media is non-refundable, non-transferable, and must be used by the same person on all days. Valid only during normal operating hours. Parks, attractions, or entertainment may: close due to refurbishing, capacity, weather or special events; change operating hours; and otherwise change or be discontinued without notice and without liability to the owners of Universal Orlando Resort™ ("Universal"). With the exception of the 2019 Halloween Horror Nights event, the above Admission Media specifically excludes admission to separately ticketed events at any of the Universal theme parks or within any of the Universal CityWalk™ venues, AMC® Universal Cineplex 20 with IMAX®, the Blue Man Group show, or Hollywood Drive-In Golf™, and parking or discounts on food or merchandise. Some CityWalk™ venues require ages 21 or older for admission. Valid Photo ID required. Additional restrictions may apply and benefits are subject to change without notice.
© ™ Netflix, Inc. 2019.
Universal elements and all related indicia TM & © 2019 Universal Studios. All rights reserved.
Adults from £N/A
Children from £N/A
FREE Florida BIG DEAL Card worth £25 - T&Cs Apply - Disney, Universal & SeaWorld Parks only.
Excluding 2021.
FREE Standard Delivery
FREE Florida Mall Discount Voucher

Buy Now Pay Later! Deposit option from only £10 per ticket

FloridaTix is an
Official Ticket Partner
of