Discovery Cove® Guide
Discovery Cove is an all-inclusive day resort where you can get up-close with animals that you'd rarely have the opportunity to see in the wild!
The number of visitors each day is strictly limited to 1300 people, ensuring no crowds, no turnstiles and no chaos.
Enjoy a relaxing day in nature! Drift along a scenic river, hand-feed exotic birds in their free-flight aviary and snorkel among tropical fish and rays. Spend some chill-out time on the sunny, sandy beaches and swim with bottlenose dolphins.
Make sure you arrive early! You've only got one day there so you want to make the most of it!
Insider Tip

If you've booked a dolphin swim, the times are allocated on a first-come first-served basis. So once you've got your time, you can decide how to plan your day around it
Discovery Cove Attractions & Experiences
You can enjoy these wonderful attractions and experiences during your day at Discovery Cove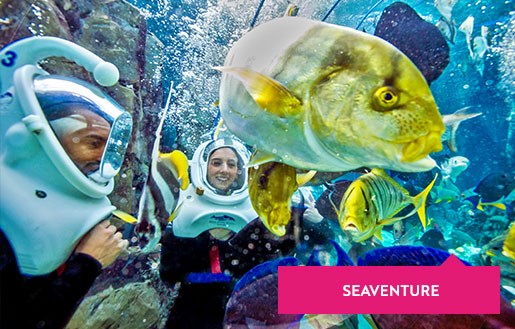 SeaVenture®
Additional ticket required
Take a walk under the sea, surrounded by the exotic marine creatures of the Grand Reef on this unmissable underwater experience.
No previous diving experience is necessary - just put on a helmet and you're ready to go!
Come face-to-face with sharks through the safety of huge panoramic windows
Touch and interact with gentle rays, schools of colourful fish and the unique sea creatures that inhabit this teeming underwater world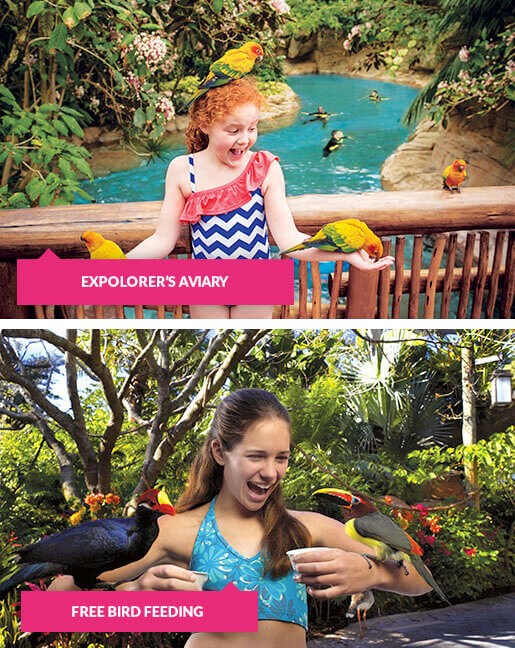 Explorer's Aviary
Watch exotic birds of all shapes, sizes and colours fly freely around you in these beautiful gardens
Feeding the birds is FREE – just pick up a pot of bird feed and they'll be only too happy to perch on your shoulder or feed from your hand!
Learn about the conservation work that goes on behind the scenes. Many of the birds at the aviary have been nursed back to health after being found injured
Prefer not to hold the birds? No problem! The Explorer's Aviary is still perfect for spending a little time out of the water and taking a walk through the lovely gardens.
Top Tip 1

Try to visit the aviary early in the day; the birds are hungriest at this time so you'll have the most fun feeding them!
Top Tip 2

You may want to wear shoes in the Aviary, as the birds have been known to nibble at feet!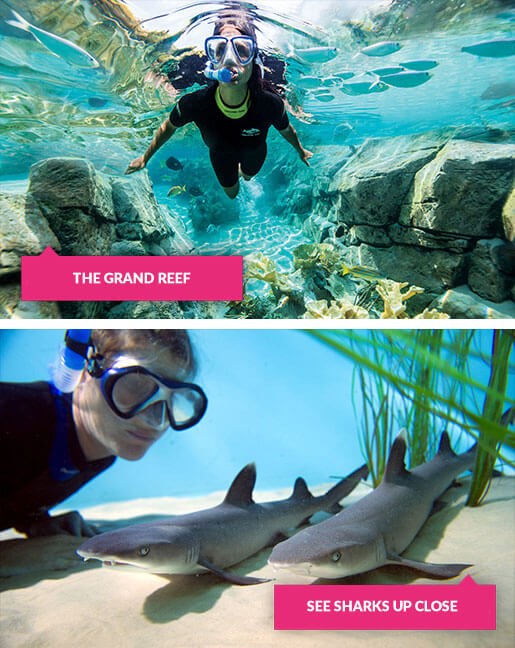 The Grand Reef®
This beautiful coral reef is home to thousands of vibrant, colourful tropical fish, as well as rays and other fabulous marine creatures that you can
Snorkel or swim in the Grand Reef for a close encounter with its residents!
You'll also get to see huge sharks and venomous lionfish - housed safely behind glass walls
There are plenty of shallow areas so kids of all ages can enjoy the water – and the fish!
Discovery Cove staff are on-hand to answer any questions, and will even provide you with cards to help you identify the different fish!
Top Tip 1

Try to be in the Stingray Shallows at feeding time and you'll have the chance to feed the graceful rays as they glide around you in waist-deep water
Top Tip 2

The water in the Grand Reef will feel quite cold, as it is kept at a suitable temperature for the creatures who live there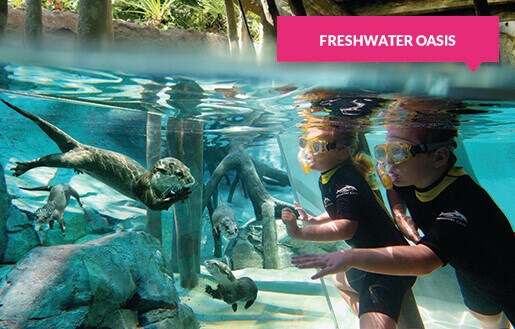 Freshwater Oasis®
Wade, swim or float down this waist-deep tropical river as the rainforest canopy comes to life above you
The water is mostly waist-height, so kids can safely have fun exploring the oasis too
Keep a look-out for the cute marmosets and entertaining otters, whose antics you could easily spend hours watching, especially at feeding time!
Head to the In-Water Relaxation Station, where you can relax in soothing warm waters and enjoy a cold drink in the comfy built-in chairs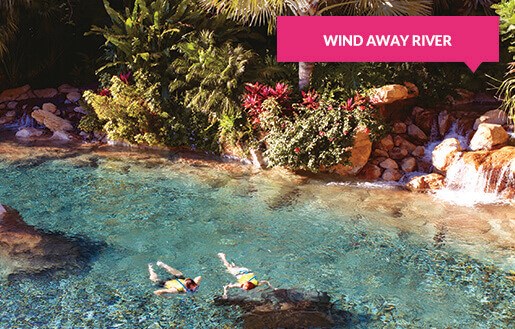 Wind-Away River
Let your troubles slip away as you glide along the twists and turns of Discovery Cove's lazy river!
You'll pass through a dense rainforest, past cascading waterfalls, hidden grottos, secluded lagoons, underwater caves and white-sand beaches
The river also winds through the Explorer's Aviary, so you can see the tropical birds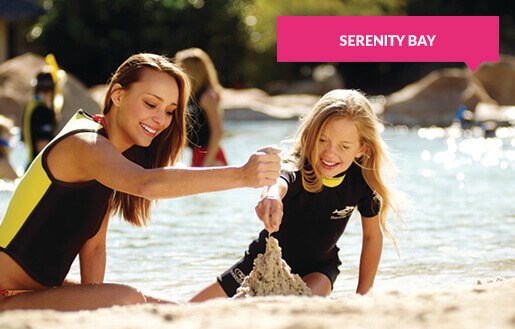 Serenity Bay
Serenity Bay is no ordinary swimming pool! Take a dip in this lovely freshwater pool that's surrounded by white beaches
Children can paddle and play safely in the shallows or underneath the waterfalls
Adults can relax in sun loungers or take a rejuvenating swim in the deeper waters
The water temperature at Serenity Bay is kept at 85-88°F (30°C) so it's comfortable to swim all year round!
Discovery Cove Dolphin Swim
The highlight of your visit to Discovery Cove!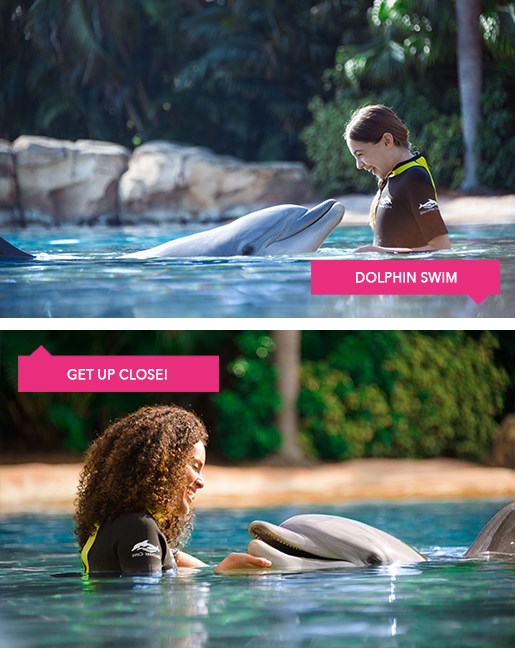 About your Dolphin Swim
This is your opportunity to swim and play with a friendly, gentle dolphin on this amazing 30-minute interaction!
Get a short briefing from the dolphin trainer before you get in the water. Then it's time to meet your dolphin for some group interaction where you can swim, play and even have a smooch with him or her. Hold onto the dolphin's dorsal fin as they take you for a ride through the water – an experience you'll never forget!
Cameras are not permitted in the lagoon, but a Discovery Cove official photographer will capture some amazing snaps of your experience! You're guaranteed to get your own photo opportunity with the dolphin.
Top Tip 1

If you want to include a dolphin swim in your day, make sure you select the "With Dolphin Swim" ticket when making your booking. If you don't, select "Without Dolphin Swim" tickets.
Top Tip 2

Dolphin swim times are assigned on the day on a first-come first-served basis, so make sure you arrive early!
Top Tip 3

Make sure you leave plenty of time to get to the dolphin lagoon for your interaction – you don't want to miss a minute!
Dining at Discovery Cove
Discovery Cove tickets are all-inclusive, so all the food on offer is FREE!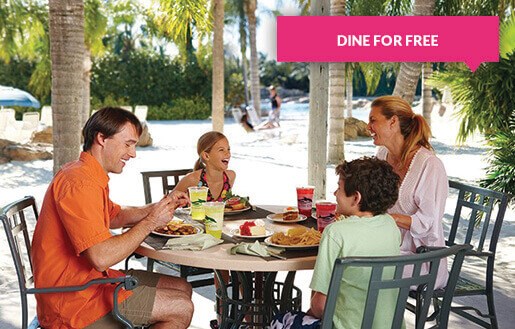 Breakfast
Breakfast is served from 7.30 – 10.30am
Choose from a yummy cooked breakfast, pastries, fruits and yoghurts
Lunch
All-you-can-eat buffet lunch is served from 11am – 3/3.30pm
Cooked options include chicken, pasta, noodles, chips and lots more!
Snacks and Extras
Snack cabanas are located around the park
Help yourself to as many snacks and drinks as you like throughout the day!
Alcoholic drinks are available for over 21s, so don't forget your ID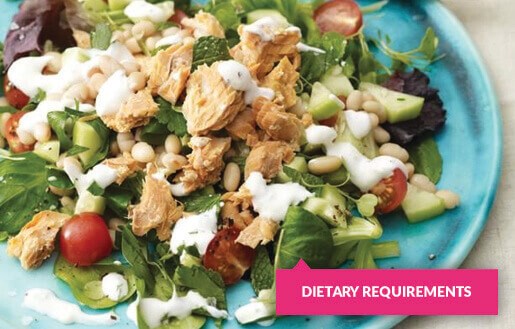 Any dietary requirements?
Always ask for a supervisor when you arrive at a food outlet
Avoid peak hours and try to arrive before meal time so that you can be efficiently assisted and served
Don't forget to ask about cross-contact potential!
Want to know more about your food options at Discovery Cove?
Read the Discovery Cove Food Guide
What's included with your tickets?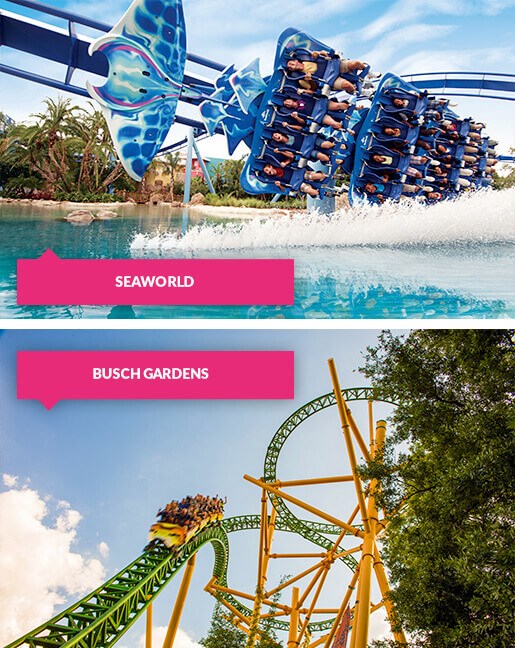 All Discovery Cove tickets include
All-inclusive food, drinks and snacks the whole day
Use of lockers, wetsuit, towels & shower amenities
Souvenir snorkel
A full day's free parking
SeaWorld & Aquatica
As well as a full, all-inclusive day at Discovery Cove, your tickets also include 14 days' unlimited admission to these Orlando theme parks:
Busch Gardens®
The
Discovery Cove Ultimate Package
also includes 14 days' admission to
Busch Gardens
Important
Children under 3 get FREE entry to Discovery Cove
However, once you've made your booking you MUST phone us to let us know you're bringing a little one. Call us free on 0300 100 3130 with your booking reference
The all-you-need-to-know section of your Discovery Cove Guide! Get all the details about Discovery Cove so you're fully prepared for your visit….
Discovery Cove Opening Hours
Opens: 9am
Closes: 5pm
Check-in starts at 7:15am, so try to arrive early to make the most of your day!
Park Capacity
Attendance is limited to about 1,300 guests a day, to ensure no overcrowding and extraordinary service
So book well in advance to make sure you get to visit on the date you want!
Discovery Cove Parking
Parking Prices:
Parking Tip 1

Free parking is only at Discovery Cove – you may have to pay for parking at any other theme parks that are included with your Discovery Cove tickets
Disabled Access
Discovery Cove can accommodate guests with disabilities who are able to manoeuvre themselves with limited assistance (or with the aid of a personal assistant) during their dolphin experience and in the various wading areas.
Specially-designed outdoor wheelchairs are available to use on the beach. Please note that these wheelchairs are not self-manoeuvrable so guests will need assistance to use them.
Wheelchairs can be reserved by calling ahead on 001-877-557-7404
Other Restrictions
Children:
Children must be at least 15 years of age to visit Discovery Cove without an adult
Dolphin swim experience: Children must be at least 6 years old to swim with dolphins. Children aged 6-12 must be accompanied by a paying adult who also is participating in the dolphin swim experience
SeaVenture: Any guest under the age of 18 must have liability waiver signed by parent or legal guardian after watching the instructional video
Trainer for a Day: Children must be at least 6 years old, and under-13s must be accompanied by a paid "Trainer for a Day" adult
Expectant Mothers:
There are no restrictions for expectant mothers. However please take into account the following:
The day will involve swimming in water depths ranging from 3 feet to 15 feet
The Dolphin swim experience involves a live animal weighing over 500lbs
The Dolphin swim experience also involves up-close activities such as kissing and touching of the dolphin, as well as being towed through the water
We therefore advise to consult a doctor before your visit
Don't Forget:
Smoking is not permitted at Discovery Cove
If you want to enjoy the all-inclusive alcoholic drinks, you will need photo ID to prove that you are over 21.
Wheelchairs can be reserved by calling ahead on 001-877-557-7404
Cameras and recording devices
You are welcome to use your own camera or video-camera throughout the park
The only exception is the Dolphin Lagoon. For the safety of the animals and your photo equipment – personal cameras are not allowed!
Photographers and videographers will be present during your dolphin interaction and you can purchase the photos later in the day
If you don't already own one, consider purchasing a disposable underwater camera – it will be worth it!
Will I need to bring any money?
Your Discovery Cove tickets are all-inclusive, meaning you won't need to pay for anything once you're there, with the exception of:
Buying eco-friendly sunscreen: You will be given a sample of this when you arrive but it's worth budgeting for some more to use throughout the day (you are not permitted to use normal sunscreen in the park as it can be harmful to the wildlife)
Buying photos of your dolphin swim, which are taken by Discovery Cove's own photographers
Renting a cabana - these can accommodate up to eight people and are a great place to relax when you're not exploring the park
If you would like to buy anything from the gift shop
Where is Discovery Cove?
Address: 6000 Discovery Cove Way, Orlando, FL 32821
How to get to Discovery Cove:
From the West (Lake Buena Vista/Tampa):
Take I-4 East (toward Orlando) to exit 71 (the SeaWorld exit)
Bear right onto Central Florida Parkway when exiting the ramp
The entrance to Discovery Cove is on the right hand side of Central Florida Parkway (past the sign for SeaWorld Orlando)
From the North (Downtown Orlando, Universal Studios, Sanford, Deland):
Take I-4 West to exit 72 (Beachline Expressway/FL-528/Airport)
Once on the Beachline, take the first exit (International Drive)
Turn left onto International Drive
Turn right onto Central Florida Parkway at the third traffic light
The entrance to Discovery Cove is on the left hand side of Central Florida Parkway
From the East (Cocoa, Cape Canaveral, Titusville Area):
Take FL-528 (Beachline Expressway) west to the International Drive exit
Turn left onto International Drive
Turn right onto Central Florida Parkway at the third traffic light
The entrance to Discovery Cove is on the left hand side of Central Florida Parkway
What to wear for a day at Discovery Cove
The single most important thing to wear for a day at Discovery Cove? Your swimsuit!
You can also wear water socks or rubber pool shoes if you like
We also recommend a hat and sunglasses to keep you safe from the strong Florida sun
Plus don't forget some dry clothes for when you leave – but we won't think about that just yet!
…and just as important - what NOT to wear:
No jewellery is allowed at Discovery Cove (except for watches and wedding rings) as it can be dangerous for the animals
Don't worry about wetsuits, you'll be given one when you arrive
Whatever you do, DO NOT apply any sun-cream before you arrive! "Normal" sun creams can be harmful to the marine life, so you'll need to use a specially formulated, animal-friendly sunscreen
You'll be given a sample of the animal-friendly sunscreen when you arrive, but it's worth budgeting in the cost of this "safe" sun-cream to your day (about $20 should cover it)
Facilities at Discovery Cove
Your all-inclusive day at Discovery Cove also includes these facilities free of charge:
Lockers
Wetsuits
Towels
Swim mask and snorkel
Parking
Showers & changing rooms
Beach chairs
Breakfast, lunch, drinks & snacks
What can I bring into Discovery Cove?
You may bring your own masks and snorkels if you prefer, but no other diving or swimming equipment is permitted in the park
Feel free to bring books, magazines, and headphones
and what can't I bring?
Bringing your own food and drink into the park is not permitted. All food and drink is free so you won't need to!
No diving or swimming equipment is allowed except for own mask and snorkel.
No weapons, including knives, are allowed into the park
Water Temperature
The water temperature at Discovery Cove is kept constant throughout the year:
Serenity Bay: 85-86°F (30°C)
Freshwater Oasis: 85-86°F (30°C)
Wind-away River: 85-86°F (30°C)
Dolphin Lagoon: 76-77°F (25°C)
Grand Reef: 76-77°F (25°C)